Only thanks to the presence of kayaks, ancient people living near rivers ou lakes or seas could hunt for animals, fish and move loads through the water. Currently, the analogs of those kayaks have not lost their popularity, they just have become more modern.
Types of kayak construction
The best manufacturers produce 3 types of kayak designs:
Classic, collapsible-frame. Basic elements: metal or wooden frame, covered with quality synthetic material. The main advantage is the ability to quickly assemble and disassemble. Among the shortcomings, it is worth noting the minimum rigidity and the possibility of flooding in out-of-standard situations.
Non-dismountable case. Composite or polymer materials are used in the manufacture. The boat hull is completely or mostly closed. It enjoys well-deserved popularity due to such characteristics as unsinkability, wear resistance, durability and strength. There are 2 options for boarding: on above of the kayak or inside it. The first method is most suitable for beginners.
Inflatable. They are very close in functionality to a rubber PVC boat, but they have a high speed of movement due to their streamlined shape. Endowed with such positive qualities as unsinkability and ease of movement. However, inflatable boats are susceptible to mechanical damage such as punctures and cuts.
Overview of some varieties of kayaks
Walking kayak
A walking kayak is a cross between a beach and sea kayak. Basically, this type of boat is rented to people without professional training. Such models are inexpensive in price, have a closed deck, as well as high running and seaworthy characteristics. Popular kayaks of this type are available in lengths from 3.5 to 4.8 meters and are used for walks on calm water surfaces.
The weight of the Intex Challenger K1 Kayak is 13 kg. The kayak package includes: paddle, pump, storage bag and repair kit. The kayak is assembled and inflated in 5-10 minutes.
The Intex Challenger K1 Kayak is not a bad cruiser for walking in calm waters. The kayak looks fragile, however it is made of a very dense material.
The kayak has two separate inflatable chambers, which makes it possible to safely reach the shore even if one of the chambers is damaged. The kayak is lightweight and easy to handle.
Because of this lightness, the bow of the kayak wobbles from side to side, so its course is not as stable as a plastic one.
Pros:
Compactness. The kayak fits into a regular travel bag.
Price. This is a ready-made pleasure kayak at a very inexpensive price.
The package includes everything at once, except for the life jacket.
The kayak is comfortable to sit and easy to operate.
Сons:
The repair kit is not successful, so it is better to immediately assemble your own one, plus a degreaser, good glue and a piece of PVC for patches.
The kayak doesn't like big waves.
The paddle included in the package is also not very good. There is a lot of play during rowing.
In general, Intex Challenger K1 Kayak is a simple and convenient solution for very reasonable money.
---
---
Review: Intex Challenger K1 Kayak 1-Person Inflatable Kayak Set
Fishing kayaks
A distinctive feature of fishing kayaks is the presence of compartments for equipment and catch, as well as special stands for rods. Manufacturers produce branded models with a pedal drive.
Intex Excursion Pro Fishing Kayak is designed for lakes and slow rivers. The streamlined hull contributes to easy glide through the water, and the inflatable floor provides additional buoyancy and safety. The Intex Excursion Pro inflatable boat is made of durable "Super Tough" vinyl.
The kayak withstands aggressive environments and light damage and scratches, it is very compact when deflated and fits freely in the trunk of a car, making it easy to transport. The bright orange color of the boat with oars will be clearly visible both on the water and on the shore.
Intex Excursion Pro Fishing Kayak Specifications
Material: 3-layer high-strength vinyl, 0.75mm thickness.
Number of air chambers: 2.
Weight: 21.3 kg.
Maximum load – 180 kg.
Distinctive features of Intex Excursion Pro Fishing Kayak:
Consists of 2 air chambers with valves for quick inflation and deflation.
At both ends of the boat there are 2 handles and 2 cables, with the help of which it is convenient to move the kayak and drag it onto land.
Inflatable seat cushions and floor footrests allow you to sit in the kayak with particular comfort.
Two built-in rod holders;
Two specially designed detachable keels for optimal maneuverability in deep and shallow waters.
The bow and stern have storage space and a stainless steel D-ring rod for securing dry bags and gear.
---
---
Intex Excursion Pro Fishing Kayak
Classic sea kayaks
Sea kayaks are not suitable for rough waters, but they belong to the category of universal models. These kayaks are distinguished by their maneuverability and high speed. Mandatory attributes include a seat with an adjustable backrest, leg and hip rests, carrying handles, harnesses around the perimeter of the boat, as well as aft and bow compartments.

Perception Expression 11.5 is a stylish kayak for beginners and active kayakers. The kayak is equipped with a retractable keel (skeg) and a comfortable seat with the ability to adjust in 3 directions.
The Expression 11.5 kayak is very agile and fast. Designed for beginners and intermediate kayakers.
It has a large sealed hatch for equipment, a comfortable expedition-class seat with a vertically and horizontally adjustable backrest, and the seat also has lower feet support.
A feature of this kayak is a retractable keel (skeg). The use of a skeg will significantly improve the directional stability of the kayak, especially in windy weather and on waves.
It is also worth noting the excellent ergonomics of the kayak cockpit, which completely repeats the cockpit of the "older brothers" – the Expression-14 and Expression-15 tourist kayaks.
Basic kayak equipment:
• Zone DLX Seating System
• Adjustable foot stop pedals
• Elastic harness at the stern and bow of the kayak
• "V" -shaped bottom
• Ergonomic handles
• Rear luggage compartment with hatch and bulkhead
• Soft, adjustable knee rests
• Housing made of high-strength polyethylene
• Retractable keel (skeg) to stabilize the course of the kayak
• Steering system (option)
---
---
Perception Expression 11.5
Tourist kayaks
Tourist kayaks are inflatable, frame-inflatable and frame. Many tourists use them not only on calm rivers, but also at sea. Touring models are distinguished by low speed, low directional stability and good windage. The main elements are the sealed compartments and the leg and hip rests. It takes a lot of time to disassemble and assemble such a kayak.
Let's talk about the qualities of the kayak in general, including the pros and cons of the product.
The Intex Explorer K2 is not an expensive kayak, which disproves the popular belief that an inexpensive product is never good.
In terms of material quality, Intex Explorer K2 is no worse than expensive models of the same type. The kit includes a hand pump and prefabricated aluminum paddles.
The kayak has three separate inflatable sections: floor, left and right sides. Also, the seats and arches front and rear are separately inflated.
A keel plate is attached to the bottom for better handling. The process of preparing the kayak for launching takes about 5 minutes.
The oars are easy to assemble. The kayak is easily controlled by two rowers, it floats easily even in big waves.
The boat keeps straight ahead without wagging. It is very comfortable to sit in a kayak while driving, it is large and wide, and it is quite comfortable for two in it.
The kayak is clearly visible from afar. The only negative is the paddles. They are heavy and during rowing, the water from the oars gets inside the boat, although it is easy to pour it out later, the kayak has a weir hole.
Blowing air out of the kayak is also easy and very quick. It's harder to let the air out of the seats.
And the oars are not very easy to disassemble. If you swim alone, you have to sit forward, not back. If one person sits in the back, the nose kicks up strongly and the kayak swings from side to side, and the waves begin to swing it.
But in general, the kayak is comfortable, especially for hiking trips. Some users even said that in an inflated kayak, you can sleep in a large tent like on a mattress.
---
---
NEWEST Intex Explorer K2 – Review, How To, Set Up – Portable Inflatable Kayak (2 Person)
Sports kayaks
The dimensions of sports kayaks are strictly regulated. Such structures are characterized by a minimum volume, no strapping, thigh rests and sealed compartments, but they are equipped with steering control. Designed for use in calm waters.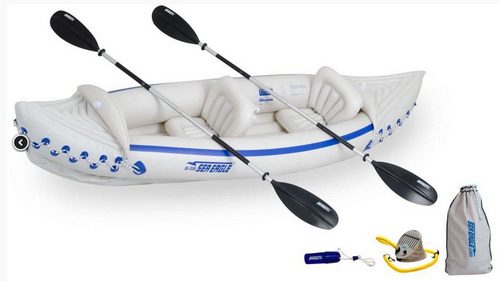 The Sea Eagle 330 kayak is one of the most popular in America. The Sea Eagle 330 is a versatile kayak that is lightweight and portable. Weighing only 12 kg. it is compact enough to fit into the smallest car trunk.
However, the light weight does not in any way affect the strength and capacity of the kayak. The kayak can accommodate two rowers with a total weight of 227 kg. But at the same time the kayak is light enough for single control and carrying.
General characteristics
Person Capacity 2
Hull Weight 12 kg.
Length 340 cm
Beam 86 cm
Interior 290 cm x 38 cm
Load Capacity 2 Person or 227 kg
Deflated 61 cm x 41 cm x 18 cm
Chambers 3 (port, starboard, floor)
Tube Diameter 25.4 cm
Air Valves5 Deluxe One Way
Inflation time 6 min
SeamHigh Frequency Welded
Material 33 mil Polykrylar (K80 PVC)
FloorInflatable I-beam construction
Whitewater RatingSuitable up to Class III
Inflation Pressure 1.1 psi
---
---
Inflatable kayak review: Sea Eagle 330
Sea Eagle 330 Kayak Review
Final Words
In fact, there are a lot of varieties of kayaks, especially considering that each separate type of kayak has its own sub-types. In this article we will look at just some of the well-known types of relatively inexpensive kayaks.